CLC Golf Scramble & Raffle

Student Ministry Golf Scramble
at Bear Slide Golf Club
August 23, 2019 - 11 AM start
Early bird registration (discounted tickets!) is now open through August 12!
Late registration begins August 13.
(Click on "Tickets" for both registration & sponsorship.)


The annual Student Ministry Golf Scramble will be at the beautiful Bear Slide Golf Club (6770 231st St, Cicero, IN). Your participation in this event allows us to provide our students the chance to participate in gatherings and service events in our own church, our community, and the larger church body. By participating in the Student Ministry Golf Scramble you will receive:
An investment in young people ready to make a difference in this world!
18 holes of golf, including cart
Range balls
Box lunch & free beer, water, soda
19th Hole gathering with Ernie Verbarg, Indiana State Fair BBQ Champion
Raffle tickets, contests, and mulligans will be available for purchase.
For more information on Student Ministry at Cornerstone Lutheran or this Golf Scramble, contact Vicar Shawn Hecksel, Director of Faith Formation (or call 317.814.4252).
Raffle items needed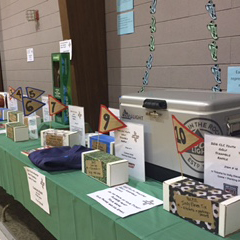 The CLC Golf Scramble to benefit Student Ministry is coming up on Friday, August 23. (Click here for more information on the event.) We are currently looking for raffle item for the golf scramble. Do you have anything that could be a fun and interesting item to raffle off - like tickets to a sporting event, concert, or show; sports or other memorabilia; exclusive experiences; week at a timeshare; fine jewelry; or golfing items? Maybe your small group could get together and donate a themed gift basket!
To donate items to benefit this event, email .